Certificates and awards
1993 - Honorable mention in the competition for the ecological project of the year for the Country Life organic farm.
2005 - Melantrichova store was declared Organic store of the year
The winner is selected by an expert jury consisting of well-known and experienced representatives of marketing, food industry, media, consumer associations and representatives of the announcer and professional guarantors of the competition. The same jury also evaluates and selects organic products registered for the Czech Organic Food of the Year competition.
2006 - "Barták's Pot" award for the best organic farmer of the year
The Pro-Bio Association of Organic Farmers awards each year the Best Organic Farmer of the Year Award. The selection and quality of services, production of organic products, ecological closure of the economy and contribution to the development of organic farming are evaluated. The prize is a touring cup full of gold coins, called Barták's pot. It is named after Richard Barták, the Nestor of Czech organic farming.
2009 - "Good Egg" award
The competition is organised by the Compassion In World Farming, the world's leading farm animal welfare organisation. This award can be given to companies that support or sell eggs from free-range farming.
2015 - winning the E.ON Energy Globe Award of the Czech Republic (ecological Oscar)
Award for Archa eco-centre in Nenačovice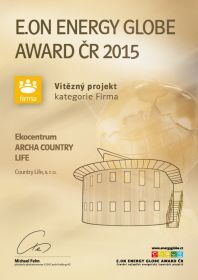 2015 - Natural cosmetics shop Liliová announced the Organic Shop of the Year
2018 - Dobroty magazine won the 3rd place in the Zlatý středník competition in the category B2C magazines and newspapers
In the Zlatý Středník competition, the jury evaluates the best company publications every year.
Ecological certificates
Certificate EKO-KOM

Product awards
2006 - Gold Salima award for Würzl Bruno Fischer broth
2008 - 2008 - 1st place in the competition Trendy Go organic (Salima Exhibition) for dairy product Blueberry Sojade
2009 - 3rd place in the Czech Bio competition for pasta Ježek Country Life
2010 - 1st place in the Czech Organic Food of the Year competition in the category of Mill and Bakery Products for Wheat-rye Cereal Bread with Nopal Country Life